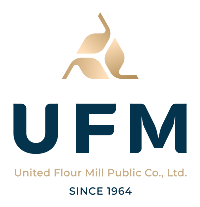 United Flour Mills Public Co., Ltd.
"แป้งยูเอฟเอ็ม คุณภาพทุกถุงวางใจได้"
UFM (ยูเอฟเอ็ม) แบรนด์แป้งข้าวสาลีเจ้าแรกในประเทศไทยที่อยู่คู่คนไทยมายาวนานเกือบ 60 ปี โดยมีจุดมุ่งหมายให้คนไทยได้บริโภคอาหารจากแป้งข้าวสาลีที่มีคุณค่าทางโภชนาการสูง ในราคาจับต้องได้และมีคุณภาพมาตรฐานทัดเทียมกับต่างประเทศเพื่อส่งเสริมคุณภาพชีวิตและสุขภาพที่ดีต่อผู้บริโภคเป็นความมุ่งมั่นขององค์กรในการเป็นบริษัทที่ดำเนินธุรกิจอย่างมีความหมายและด้วยใจที่คำนึงถึงส่วนรวม
"UFM Flour-quality flour you can trust"
UFM is Thailand's first producer of quality wheat flour products who has stood side by side with the people of Thailand for almost 60 years. Our goal is to produce international standard, high quality, and affordable wheat flour for all consumers to enhance their health and quality of living. Throughout the decades our organization has stayed true to our mission, and we will continue to practice our business with meaning and purpose, for the betterment of all.