Thai Youth Orchestra, under the patronage of Her Royal Highness Princess Galyani Vadhana Krom Luang Narathiwat Ratchanakarin was founded in the year 1986 . The group strives to lay the foundation and a nurturing space for the development of youth orchestras in Thailand.
The group's path has included many highlights. In 2017, the TYO won the best award World Symphony Orchestra Competition at the 11th International Youth Music Festival in Vienna,after performing the royal compositions from his late majesty , King Rama IX. The TYO has also collaborated with Kula in June 2022 for our inaugural "A Night to Remember" Charity concert in Bangkok!
Under the guidance of accomplished Music Director Dr. Akkrawat Srinarong, TYO continues to provide an amazing platform for Thai youth to flourish both locally and internationally.
Get ready for an out-of-the box musical evening with this group of inspiring and talented musicians!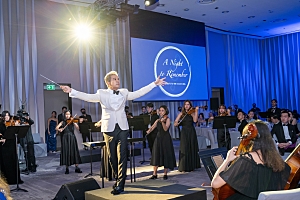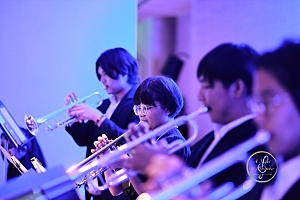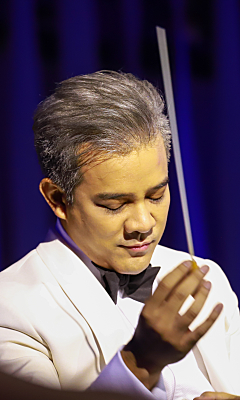 Dr. Akkrawat (Paye) Srinarong
Music Director, Thai Youth Orchestra
Dr. Paye Srinarong is a violinist, conductor, educator and entrepreneur. Forbes Thailand described him as "an entrepreneurial violinist; a pioneer who harmoniously combines music alongside modern business. An artist who pushes barriers and enhances the society through his musicianship and creativity for higher purpose."
For the past three decades, his passion as a violinist and connecting music to a wider audience has earned Dr. Paye international recognition, with over a thousand performances in six continents. Dr. Paye became Music Director of Thai Youth Orchestra (TYO) in 2017. In his inaugural year he led the young ensemble to First Prize at the prestigious Summa Cum Laude International Youth Orchestra Competition in Vienna, immediately giving Thailand international musical recognition followed by Spain tours in 2018 and 2019. Amidst the pandemic, the orchestra have been active online through #TYOdigital campaign, releasing contents and presenting virtual concerts, with hundreds of thousands of viewers tuning in since 2020.
As an educator he founded Viemus Music School with his family in 2008, creating a high standard music community, grooming local talents at an early age and also bringing families and friends together through music making.
Dr. Paye received his early music education from his father, Prof. Phukorn Srinarong. He attended London's Purcell School, Royal Academy of Music, Yale University, and SUNY Stony Brook New York, where he became and remains the only Thai violinist with a Doctor of Musical Arts degree since 2012.